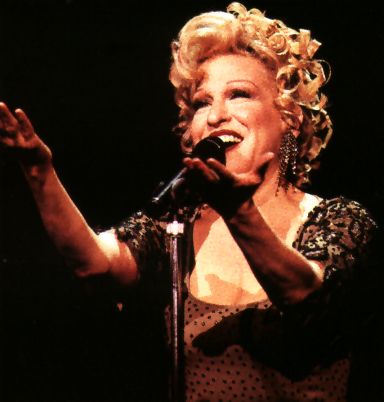 There is a train called Bette Midler, either get with it, or get left behind.
December first, 1945 Bette Midler was born in Honolulu, Hawaii. Bette had a difficult life growing up because she was part of the only Jewish family, and one of the very few white women. But Bette didnt let this stop her. Bettes
mother, Ruth; who was very fond of movies, named Bette after a woman in the movie business; Bette Davis. Ruth had high hopes for Bette. She showed a certain spark, an extreme talent. She even won an award in the first grade
for singing Silent Night. Bette worked her way thorough school. She even got a job, working at a pineapple cannery, Bette refers to this memory as being chief chunker, and said, I would come home smelling like compote. Bette went to one year of college at the University of Hawaii. But Ruth wouldnt let Bette settle for anything else but the fame and bright lights of Broadway. So while in the university Bette studied acting. When Bette was
twenty, she decided to follow in her name sake, and take up acting. Even landed her first professional job in 1965 in the movie, Hawaii. Where Bette played a missionarys wife who is constantly sick. Bette eventually moved to
New York where she became a glove sales woman in Sterns Department Store, a hat check girl, and a go-go dancer. At least, that was before joining chorus of the hit Broadway musical, Fiddler on the Roof in 1966. In February of
1967, Bette took over one of the leading roles as, Tzeitel, ( the eldest daughter.) And held that part for three years. But singing late night after the show was where Bette got her big break. She was noticed by an executive from the David Frost show, and appeared several times with David and on the Merv Grifin Show. After leaving Fiddler on the Roof, Bette performed in, Salvation. And then again became a go-go dancer in a Broadway bar. Then Bette picked up a job which put her on the local gay scene. A fifty dollar a night job at the Continental Baths, singing to male homosexuals. Bette showed off her stuff singing songs from the forties, fifties, and sixties-rock, blues, even
reaching back to 1929 in a song called, Am I blue? Word soon got around about this fab diva, and offers for other jobs soon came flooding in. Including the offer to appear on the Johnny Carsons, Tonight Show. In may of 1971, Bette played the dual roles of Acid Queen, and Mrs. Walker in a Seattle operah. Later in the year Bette made her official
nightclub bedute in New York in the, Down Stairs at the Upstairs. The original two-week commitment was extended to ten weeks, so they could accommodate the substantial amount of people. During the next year Bette appeared with Carson at the Sahara in Las Vegas, in June she sang to an
audience with standing room only. Something Bette would grow accustomed to over the next few years. In November of 1972 her first album was released; by Atlantic records it was called, The Divine Mrs. M. The album sold over
100,000 records its first month. The album contained several of the songs she had sang in her stage acts, songs such as. Boogie Woogie Bugle Boy, Chapel of Love, The Leader of the Pack, and Do you want to Dance? Bettes
next album was cleverly titled, Bette Midler, in 1973. This album contained a song titled, This is for Judith. Judith was Bettes sister, who died in a car accident, Judith was on her way to see Bette perform in Fiddler on the Roof,
she never made it. This album also made the US Top Ten, Bette also received the After Dark Award for performance of the year. Soon after Bette became a famous face, and was able to fill concert halls throughout the country.
In-between then and Bettes first appearance on the
silver serene. She released two albums, Songs for the new Depression, in 1974 and, Broken Blossom in 1977. Bettes first big movie was The Rose, which came out in 1979. Bette was nominated for an Academy Award for Best Actress, and won two golden globes for her performance. Two songs, When a Man Loves a Woman, and The Rose, entered the US charts as well as the sound track. Bette put out an album that went to platinum in 1980 called, Divine Madness. In it was the
top ten song, The Rose. Bette put out a book later that year of her humorous memories of her first world tour. The book was titled A View from a Broad. Bette also put out a childrens book called, The Saga of Baby Divine in 1983.
But Bettes career slump began in 1982, when she performed in a film called, Jinxed. Bettes career was damaged irreparably, because of rumors that were spread about violent disagreements between Bette and her co-stars. Bette
suffered from a nervous break down that year. This painful period Bette openly talked with the public about the heavy drinking and the deep depression that she suffered. Bette got married when she was 39, to a man named Martin von Haselberg. Martin was a performance artist, and a comedies
trader. Their merge was voted least likely to survive, because of the short two weeks they had known eachother. But the merage has lasted for over sixteen years now. Bette had her first child, a girl named Sophi, born in
1986. The same year Bette began to pick up her career, by appearing in a series of comedies by touchstone pictures: Down and out in Beverly Hills and, Ruthless People in 1986. Outrageous Fortune in 1987, and Big Business in
1988. She returned to the drama movies with Beaches, that reached a multiplatinum, number two soundtrack, and number one single, Wind Beneath my Wings. The song won Bette a grammy. Bette co-starred with Woody Allen in 1991
with Scenes from a Mall. And later that year stared in, Stella. Also in 1991, Bette put out another multiplatinum album, Some Peoples Lives, which produced a number two Grammy award ballad From a Distance. This song was
put out during the gulf war, and got a lot of play. The song gives the illusion of god watching us from such a distance that he can not see the tragities that are realy going on at a closer look. She received her second Oscar
nomination in For the Boys, that sound track went gold. Also in the movie, For the Boys, there was a great concern. Because it was said by Martha Raye, that the stories in the movie strongly outlined her life story. Something
Martha said, Bette had seen. Martha brought up charges against Bette. But charges were dropped on February 23, 1994 due to no basis of the law suit. Before the lawsuit, in 1992 Bette won an Emmy for singing several sentimental songs to Johnny Carson on one of his last episodes of the,
Tonight Show. Including one written by Bette herself , Dear Mr. Carson decribed as A love from Americas Woman. Bettes 1993 tour, Experience the Divine, was one of her best if not the best tour. Bette gave an over-the-top reading of Mama Rose in a made-for-television version of, Gypsy
that same year. After this, Bette put out another album called, Bette of Roses, in 1995. This CD contained songs such as, I believe in you, I know this Town, and Bed of Roses. Also in 1995 Bette came out in a movie called,
Get shorty, a movie that didnt do to well in the box office. Then in 1996 Bette came out in the First Wives Club. A movie about three women, ( Bette
Midler, Goldie Hawn, and Diane Kenton.) Who seak revenge against their ex-husbands and for every women that had been neglected by their husbands. Then in the following year Bette came out in, That Old Feeling. A movie about
the flame of an old mirage being re-lit at their childs wedding. That movie made 16,325,000 dollars. Also in 1997 Bette went on to do a concert in Las Vegas called, Diva Las Vegas. In 1998 Bette put out another album called,
Bathhouse Betty, with this CD came lots of things. Along with a whole new name for Bette (Bathhouse Betty). Then in 1999 Bette came out in three movies. Get Bruce, Jackies Back, and Fantasia. ( Bette is also in Fantasia
2000.)Bette also went on another tour called, The Divine Miss Millenioum Tour. Which started in the fall of 1999 and ended on new years day of 2000 at the Mandalay Bay, in Las Vegas Nevada. Also in the year 2000, Bette stared in
Drowning Moana, where she played the lead role as Moana Dearly. The movie was a flop at the box office. Also Bette came out in, Isnt She Great, where Bette played the role of Jacqueline Susan, and a minor role in What Women
Want. Bette also that year started her own comedy searies, a show called Bette. Where she is the star portraying herself pokeing fun at her life and career. Also Bette put out yet another CD called, Bette. With songs like TKO,
In These Shoes?, and also the introduction music to her new show, Nobody Else But You. Already with her show there is problems with the cast and poor ratings. The part of Roy, Bettes husband, played by Kevin Dunn, wants off
the show. But as the saying goes. There is a train called Bette Midler, either get with it, or get left behind.


This Biography was wrote by Aileen Brittany Walters, a devoted Bette fan. Her screen name is Candyhalo86. THANKS!!!!!